Two years ago, Jill Williams, a Kerrie Kelly Design Lab designer whom I've worked with for 25-years, decided it was time to build her own home. It couldn't be just any home, it had to embrace a unique Californian style and all the brands we've loved over the course of our design careers. After much contemplation, Jill chose to create her own Spanish Farmhouse style – celebrating handmade designer details, Spanish architecture, mixed metals and a simplicity that encouraged contrast of color and finishes.
Manufacturers include: Emtek, Hans Grohe, Silestone by Cosentino, The Galley Sink, Visual Comfort, Hinkley, Milgard Windows & Doors, Rejuvanation, Brizo, Sub Zero Wolf, RH, Hudson Valley, Kohler, Signature Hardware, AKDO Tile, Cle tile, Sabine Hill, Tabarka Tile, Coyote Outdoor Living, Mendota, Emser Tile, El Dorado Stone, Boral Tile, Mirror Image, Palecek, Wesley Hall, Four Hands, Uttermost, Eastern Accents, Jaipur, Loloi, Oly, Curry & Co, Fibreworks, Brown Jordan, Noir, Surya, and Hooker.
Jill's design process story is told by her here—to me it is always interesting to see how someone in the industry navigates the design process for themselves.
My husband and I were interested in finding a home site that allowed us to incorporate the natural beauty surrounding us here in Chico, CA. Several years ago we were fortunate to find a location that borders beautiful Bidwell Park and began to put a team together to assist us in creating our vision.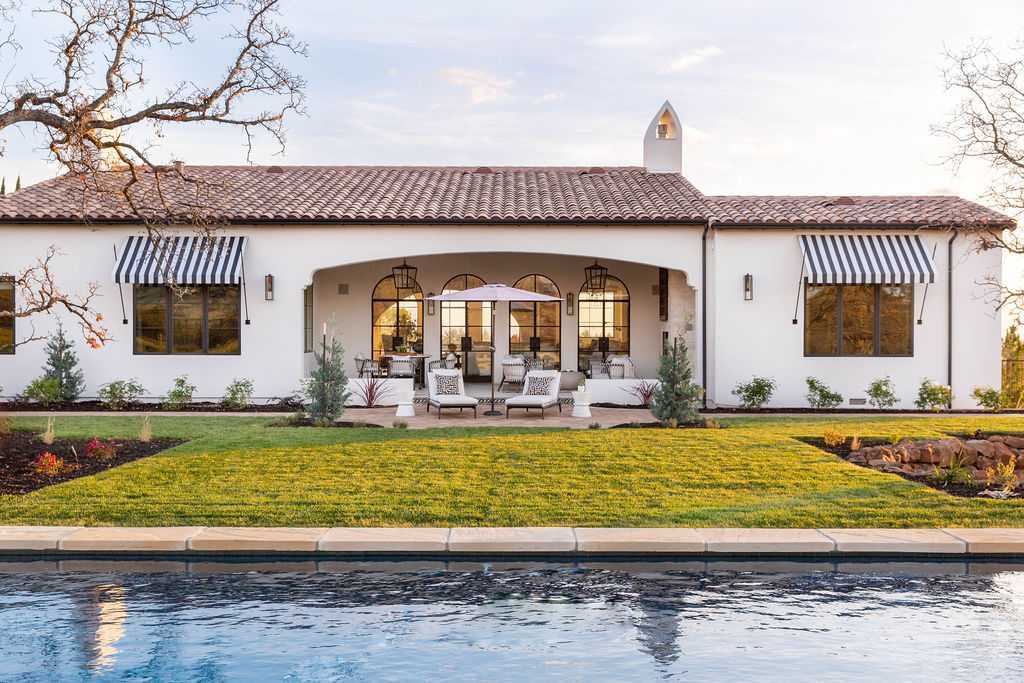 Architect Donna Rose was the perfect collaborating partner for me to work with to create a home that reflected how my husband and I live. We knew that one large dining area was all we needed. Since we spend so much time in the family room and kitchen areas, we allocated more space to this priority for us as well as for our friends and family to enjoy. The California Room is a central feature and is almost a second family room allowing for areas to lounge and dine while taking in the rugged beauty of the adjacent park.
We have been drawn to various locations including Spain, Santa Fe and Napa for their art, architecture and furnishings. We have included elements found in these lovely locations such as patterned encaustic tile, roughhewn beams, and arched Palladian doors. 
Once the 6-month design process ended with Donna, we had several builders bid on the project. We partnered with Brian Airehart knowing he was the right person for the job after saying: "If you think of it, I will make it happen."
During the construction process, I was able to design the interior. We incorporated well-loved furnishings and artwork while adding new pieces to complement the space and aesthetic. After many years of High Point trips with Kerrie Kelly and developing so many terrific industry partners, it was a wonderful experience!
We are now in our home after this 2-year process and are thrilled with the results.